"Good job! I can really see the benefit of taking tests on the computer."
How it Works
Ordering
When ordering Series 7 Online, you will receive an e-mail confirmation of your order including a temporary username and password. Within the next few hours, you will receive a permanent username and password via e-mail.
Within the e-mail along with your username and password, you will receive specific instructions on how to log on. Once your username and password have been sent, you will have 30 days in which to use the program. This program allows each user to take an unlimited amount of chapter and final exams.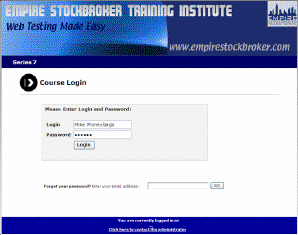 How to Use the Program
The program allows you to take up to 12 - 125 question practice final exams 10 - 50 question chapter exams, and 2 - 125 question "Annihilator" exams.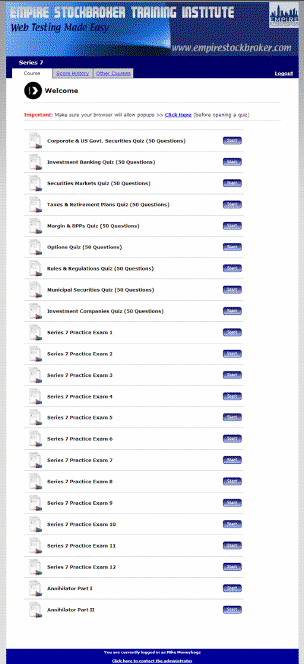 Once a test is started, you will have a choice of answers. Just click on the correct button (see below) and then the "next" button to move to the following question. Once you have completed the exam, click on the "end" button to grade the exam.
Once you have clicked the "grade exam" button, you will receive an overall grade and a percentage breakdown for each chapter. At this point, the program will allow you to review all of your wrong answers.
To try it out, click the following link:
The "LogIn" name is: Free
The "Password" is: Try
About LIIF I Contact LIIF I Stockbroker Books I Online Training I Support I About the Series 6 I Series 6 Online Advantages I Series 6 Exam I Series 6 Classes I About the Series 63 I Series 63 Online Advantages I Series 63 Exam I Series 63 Classes I About the Series 7 I Series 7 Online Advantages I Series 7 Exam I Series 7 I Free Demo Page I How it Works I Series 10 I Series 11 I Series 24 I Series 26 I Series 27/28 I Series 3 I Series 31 I Series 37/38 I Series 4 I Series 51 I Series 53 I Series 7 | Series 55 I Series 6 I Series 63 I Series 65 I Series 65 Exam I Series 66 I Series 7 I Series 9 I Site Map I Site Map (XML)